The New Characters Are Here! The New Characters Are Here!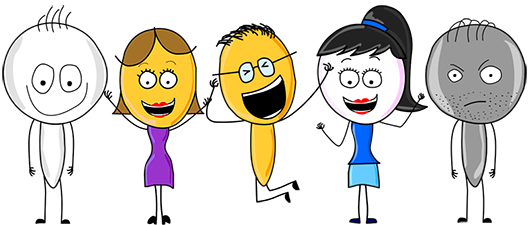 Poor Bob doesn't have to be alone now! He has three of his friends joining him (and one who isn't always so friendly!) in Barb, Barry, Bianca (and grumpy old Bruce). Each new character is only $5 and include at least 31 poses/expressions each.
To help them through their eLearning journey, they have accompanying personal effects with the Accessories Pack ($2.00 for hats, ties, bows, glasses, etc.) and the Office & Technology Pack Plus Icons ($3.00 for phones, tablets, computers, headset, coffee, desk, chair, etc.).
These character packs are all available as Articulate Storyline files, which include a multitude of image states to change characters' expressions on-the-fly. But each also includes the full set of PNG image files if you're not using Storyline.
My intent is to make these affordable, as other illustrated character sets can be very costly and are used by everyone else. I've bundled all 5 characters and the accessories and office & technology packs together at a discounted rate ($20 for all of them), and each character includes 2-4 new poses not available in the individual character's pack. If you want the Storyline version, as well as the PNG files of all characters, add each product to your cart and use the discount code BUNDLEBOTH to get both sets for only $25!
Follow me on Twitter for discount codes for the character bundle and other specials I may throw out there from time to time! As always, i would appreciate any feedback on your experience using these characters. Thanks and enjoy!