Character Bundle Pack with Images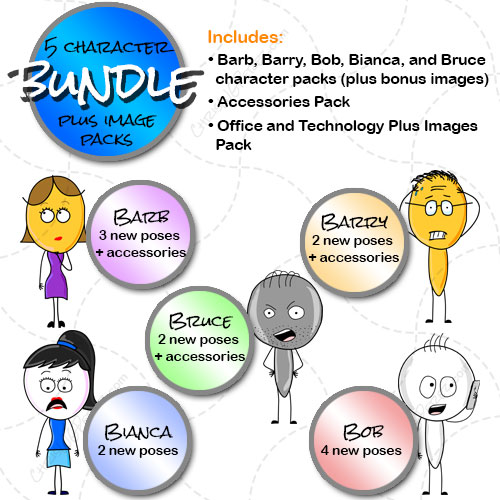 This discounted bundle includes all 5 character packs (Barb, Barry, Bianca, Bob, and Bruce) with new bonus poses/expressions for each character not available in the stand-alone packs! This bundle also includes the Accessories Pack and the Office and Technology Pack Plus Icons.
The bonus poses/expressions you get with each character include:
Barb: bowling (plus bowling balls and pins), sitting, and sitting while holding an object (total of 35 poses)
Barry: bowling (plus bowling balls and pins), shadow (total of 33 poses)
Bianca: shocked and sticking tongue out (total of 34 poses)
Bob: sitting at desk with laptop (angled view), sitting at desk (over the shoulder view at laptop screen–with display area to insert your own image), sitting at desk, and sitting at desk with headset (total of 32 poses)
Bruce: bowling (plus bowling balls and pins) and side angle view (total of 34 poses)
To see a list of poses of each character, please visit the product page for those characters.
If you would like to download the version suited to work with Articulate Storyline (using character state changes), select the Articulate Storyline file to download. This zip file also contains the PNG images of the Accessories and Office and Technology Pack.
For Articulate Presenter or any other software or use, download the Images Only file (which are PNG files).
Use the discount code BUNDLEBOTH to purchase the Storyline pack and the Images pack of this bundle and get both sets for $25.00 (discount will take $15 off the price).
If you need an expression or pose not included with this pack, let me know! I can create custom poses and expressions!