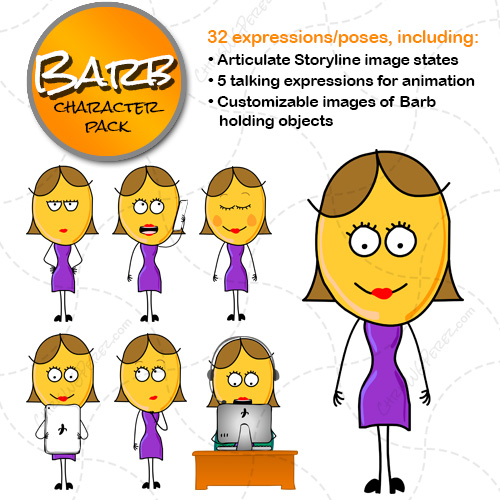 Barb is a multi-tasker and management material all the way!
The hand-drawn Barb character pack includes 32 poses/expressions.
The Articulate Storyline file contains varying states of Barb to allow you to use triggers and cue points (in Storyline 2) to alter her state during a timeline. This includes:
Barb with 19 different states of expressions
Barb with 5 different talking states, which will allow you to animate her and sync her mouth movements with your audio
Barb holding a phone and a tablet (1 tablet image has a transparent screen, allowing you to insert and image to appear on the tablet screen); also included are 3 'placeholder' images of Barb holding nothing so you can insert your own images for her to hold
Barb at her desk in 2 positions, including one with a headset
Markers on the screen summarize what each image contains and how to use them
The .zip package includes images organized in folders, for use in non-Storyline content, or if you would rather manually add the characters to your project.
Included expressions/poses are:
Blinking
Blushing
Crying
Excited
Grinning
Holding (3 placeholder images)
Laughing
Mad
Perturbed
Phone
Quiet
Sad
Sick
Sitting at Desk with Computer
Sitting at Desk with Computer (wearing headset)
Sleeping
Sleepy
Smiling (her normal expression)
Stoic
Stressed
Surprised
Tablet
Tablet_display (transparent screen to add your own background)
Talking (5 variations)
Thinking
Yelling
If you would like to download the version suited to work with Articulate Storyline (using character state changes), select the Articulate Storyline file to download. For Articulate Presenter or any other software or use, download the Images Only file (which are PNG files).
If you need an expression or pose not included with this pack, let me know! I can create custom poses and expressions!