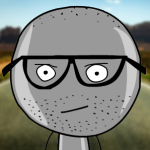 When my dreams of becoming a famous record producer didn't work out after high school, I decided to get into radio in the Colorado market, where I spent several years covering the gamut of tasks: board operator, producer, audio production, and on-air talent in the sports/talk format.
When Al Gore Invented the internet and it started becoming popular in the late '90s, I wanted my piece of the pie and taught myself web design. Since 2000, I've worked exclusively in the training and development field, besieging everyone with my creative talents, whether they liked it or not. Fortunately, I've had some of my elearning work recognized in recent years.
On the side, I work in the art photography field (where I've been published in online magazines and self-publish my own photography books) and sell Bigfoot T-shirts and stickers.
I have participated in the following events:
DevLearn 2018 (also participated in DemoFest), 2016, 2014, and 2012 (also participated in DemoFest) (Las Vegas, NV)
E-Learning Heroes Roadshow (Articulate) (Denver, CO), September 10-11, 2014; presented two sessions
eLearning DevCon 2012 (Salt Lake City, UT)
I tend to operate under my business name Sleepy Weasel Entertainment, LLC and have some work samples of web site and graphics/logo work on that site.